ISHCMC-American Academy is a leading international secondary school located in Ho Chi Minh City that consistently challenges and inspires students to achieve excellence in every area of education and their personal lives.
Integral to every accomplishment made by the children in our care is the fantastic leadership team and teaching staff that we have in place at this successful academy. These important individuals are vital to our vision to empower students to reach their potential across every endeavor: academically, in sports, the arts, technology and beyond!
At ISHCMC-AA we are as proud of our faculty as we are of every child that graduates through our doors. They are a professional and caring team of educators with a collective and significant experience of working in the field of education, both here in Vietnam, and abroad.
We would like to introduce you to the team!
Head of School: Nathan Swenson 
During the last twenty years Nathan Swenson has been a principal and educational leader in schools, colleges and universities located in the USA, Saudi Arabia, South Korea, Brazil and Vietnam. Nathan is passionate about helping children to develop and achieve at school, whilst preparing them for life after education. He always spends time getting to know every individual student under his care, ensuring he addresses each child's personal needs so that they can all reach their full potential. As Head of school Nathan is available for face to face meetings and always enjoys speaking to parents and guardians about how they can be involved in every aspect of their child's education and development.
Principal: Jennifer Pratt
Originally from a small town in Ontario, Canada, Jennifer Pratt has currently been teaching for over nineteen years in international schools, based in England, Kenya, Finland, China and Vietnam. After having already served five successful years with ISHCMC-AA, Jennifer now begins a new role at our school as an important Principal. 
Academic Dean: Robert Williams
Robert is originally from California, and has taught in the United States, Korea, Costa Rica, China, and Vietnam. This is Robert's 7th year teaching at ISHCMC- American Academy, and serves as the Academic Dean in which he oversees curriculum development. He keeps up to date with the latest ideas in education by actively reading and engaging in educational research. In his spare time, he enjoys reading books on psychology, running, and writing.
Director of Student Services: Rob Wilson
Rob Wilson has had valuable experience working for over twelve years within teaching and administrative roles in the education system in Vietnam. As our Director of Student Services he is a dedicated and fulltime student advocate and this year will be embarking on his fifth year at ISHCMC-AA.
Designated Safeguarding Lead & Clinical Specialist: Michael Tower
Michael Tower has worked in social work and education for 15 years in the US, Nepal, and Vietnam. Michael is originally from Massachusetts, USA and has worked at ISHCMC-AA for 6 years. Michael specializes in student mental health and safeguarding. He enjoys working with students and parents to support growth through any challenge. Outside of work, Michael enjoys playing with his two kids, cooking, and travelling.
ISHCMC-AA Teaching Staff
The teaching staff at ISHCMC-AA are a highly qualified team of international teachers who are dedicated to and care passionately about their personal subjects and the students under their care. Without exception, every member of our team is motivated to work positively within our dynamic and varied international community, ensuring that each child is able to achieve success and reach their full potential.
Over 70% of our teachers hold Master's degrees in their specialist subjects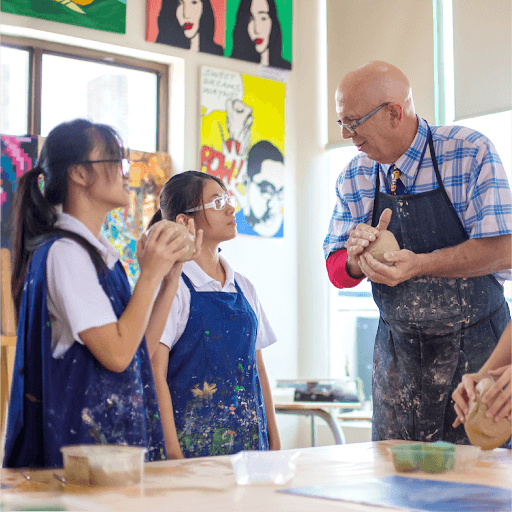 Quote:
"Our highly qualified and dedicated teachers are student-focused, committed to developing each child's unique interests, abilities, and ambitions."
Nathan Swenson, Head of School
By creating a positive, caring and engaging environment, the leadership team, teaching staff and administrators at ISHCMC-American Academy ensure that our students always enjoy and benefit from their time at school. 
The philosophies and guiding statements of the faculty have been successful in leading us to fulfill our vision to become one of the most academically successful American international schools in Asia.